No He Said

Mandy Mozart

6:24

Cloud

Mandy Mozart

5:54

Roar Little Kitty

Mandy Mozart

6:20

Like A Baby

Mandy Mozart

8:32

Fancy Shiny Dragon

Mandy Mozart

4:13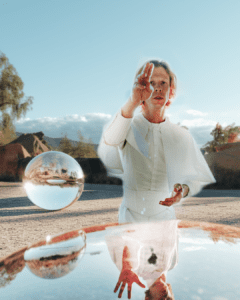 This photoseries in collaboration with Thomas Dalby is accompanying the album in form of a manga photo story and magazine. The piece is an individual artwork and will be sold along side the album. It's visual story telling is the foundation of the album's and live concerts visual identity.
Videos
The following video material is gathered and experimented with for potential music video and video installation work. Video plays a crucial part on stage and on the internet to allow people to immerse fully into the album.
A Single Video will be produced in Winter 2023 for the Song Roar Little Kitty.
Sommer 2023 Promo
Clips from the Demo Tour.
I Want To Be A Cloud
Test footage for potential video clip.
Credits/Contributions
The album is realying on these people that accompany my artistic career and without them creating a world like this would be impossible. I thank them with all my heart and wish them health and a long life. For we shall get funded and continue our quest.
Lukas Rehm, Lola Rossi, Thomas B. Dalby, Patrizia Ruthensteiner, Alexandra Feusi, Christine Gnigler, Ludwig Giersch, Awu Li, Nico Daleman
Timeline
August/September 2023 – Continuation of Demo Tour through Croatia, Poland, Germany, Austria and Denmark.
October till December 2023 – Recording and arrangements of instrumentals in Vienna
October till December 2023 – Coordination of external producers for instrumentals
November 2023 – Video shoot for single "Roar Little Kitty"
Dezember till February 2023/2024 – Post-production single video
January 2024 – Vocal recordings
February 2024 – Begin album promotion
May 2024 – Release Concert