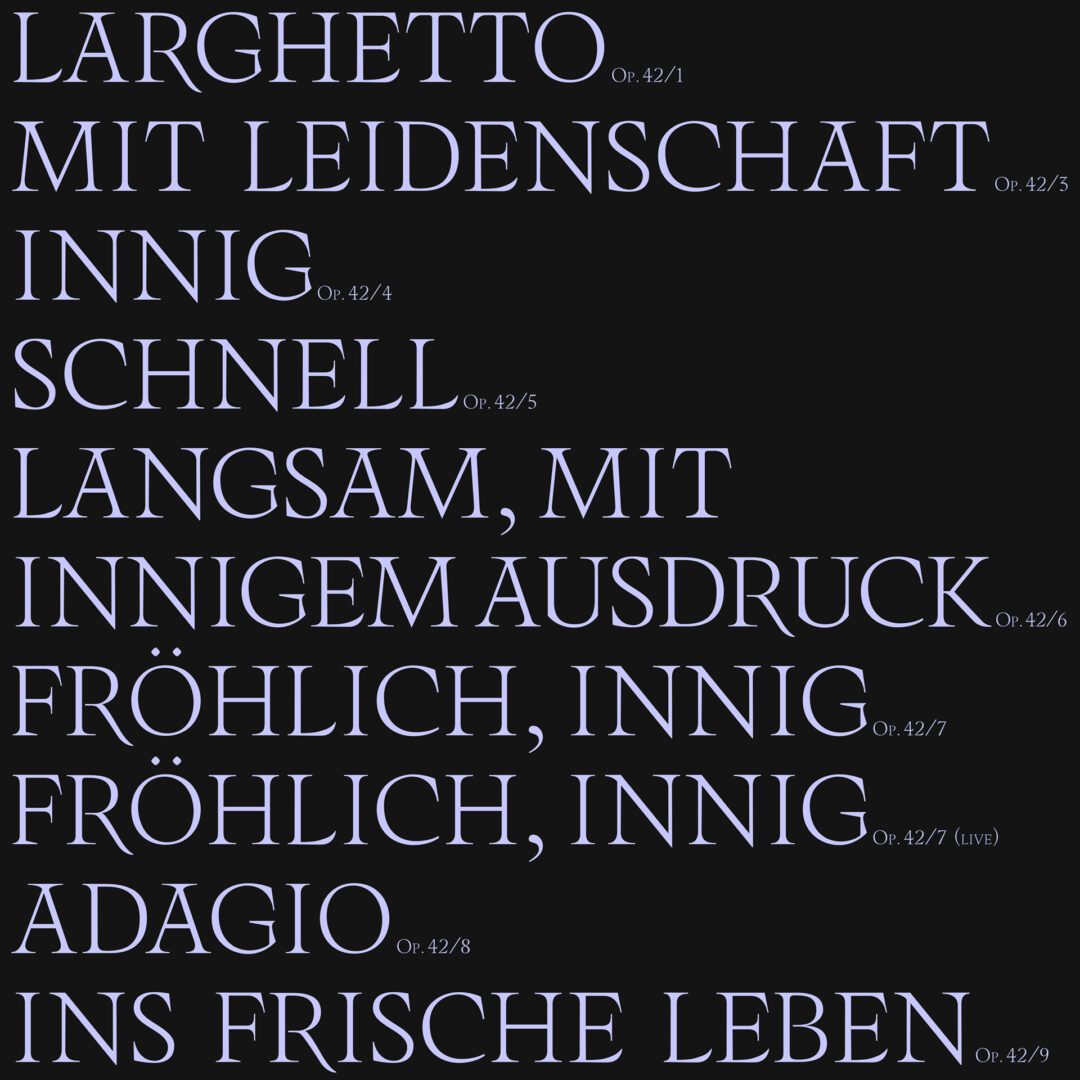 Love for Women is both an ensemble exploration and an intimate song cycle, fuelled by a frustration with the conventions of modern music culture. It's a response to both club and classical music, born behind a piano, built in clubs, and completed by many hands. The nine pieces, featuring contributions from just as many collaborators, mould the seemingly incompatible physicality of techno and sensibilities for classical into tessellating songs of beauty and tension.
Besides encroaching disappointment with a male-dominated Berlin club scene, the key inspiration behind Love for Women, and the source of this album's title, was Robert Schumann's opus 42 (1840). This setting for an 1830 poem by Adelbert von Chamisso: Frauenliebe und Leben, was an exploration of the love lives of women, initiated by male artists overwhelmed by industrialisation. Raised as a man, now wishing to explore femininity and the struggles of women in music while feeling overwhelmed in the era of digitisation, Mandy Mozart is well aware of the parallels. "I wanted to create collaborations that bring back female authorship to the pieces," they explain, "and tried to see myself rather as an instrument to operate some machines, than a composer."
Recorded at a variety of times and places, the final cycle of 'Op. 42' sees snippets of piano and acid techno ostinati spiralling behind a host of female voices, poppy hooks, and distant murmurs. A marriage of club and classical approaches oft-perceived as incompatible, Love for Women is a work of passion, and a song cycle about ignoring incompatibilities.

"This album's release is long overdue, at least three broken hearts and a pandemic later, it's relevance and intimacy did not fade and here it is." – Mandy Mozart

Recorded on various locations in Berlin, Weimar, Leipzig, Vienna and Ein Hod between 2014 and 2017.
credits
released February 8, 2022
Collaborations Artists:
David Schwarz (piano)
Rahel Hutter (piano)
Tasiya (voice)
Thomas Prestin (clarinette)
Kiki Hitomi (voice)
Keren Dun (voice)
Hanna Palme (voice)
Amparo Battaglia (voice, arrangement)
Wieland Jubelt (percussion, additional mixing)
Pete Maher (mastering)
Artwork:
Simon Fowler (Watercolor drawing on washi paper)
Lena Thomaka (design)
Pauline Le Pape (Font: Till Normal)
Nemanja Stojanovic (graphics advisor)
Thanks for your help, support and advise:
Judith Filimonova, Ruth Pierce, Christoph Egger, Stefan Karl, Lola Rossi, Marcello Dato, Christoph Frank, Jan Gerner, Wendelin Weissbach, Simon Fowler